EXCELLENCE. PARTNERSHIP. SERVICE.
Philippine Ulama Congress Organization, Inc.
PUCOI is a duly registered religious, non-stock and non-profit organization whose aim is to preserve, propagate and promote the balanced teachings of Islam.
Philippine Ulama Congress Organization, Inc.
The PUCOI logo is composed of three symbolic parts: a dome, three pillars and a minaret.
The dome, which is considered to be the masjid's pinnacle, symbolizes the ultimate goal of the organization—that of establishing an ideal, balanced and harmonious Islamic society.
The three pillars represent the organization's three core values of excellence, partnership and service. These pillars also serve as the solid foundations upon which the organization's dreamed Islamic society is to be built and raised.
The minaret, a mosque tower from which the Muslims are called to prayer, stands for the organization. And like the Muaddhin, the members of the organization live with the mission of calling their fellow Muslims to prayer and ultimately, towards the establishment of the ideal Islamic society.
What is HALAL?
HALAL in general term means permitted, allowed, authorized, approved,  actioned, lawful, legal,  legitimate or licit.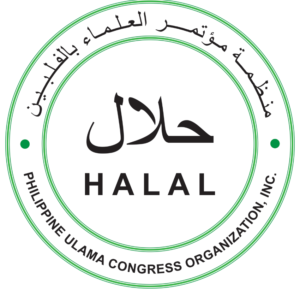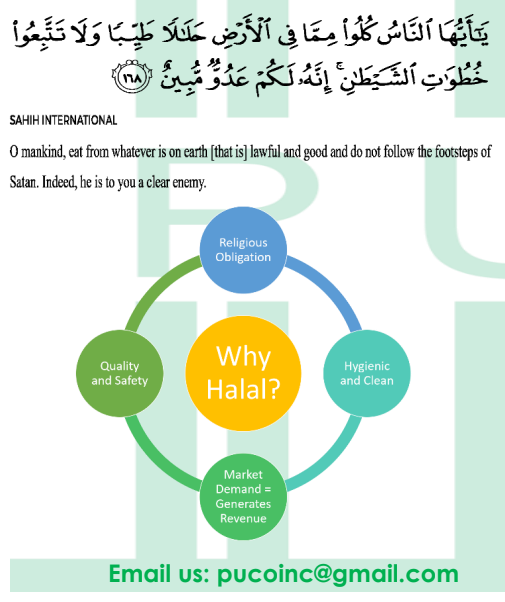 Market Growth Drivers For Halal
 Increase in Muslim Population •Increase in Demand for Halal products even in Non-Muslim Markets

Increased awareness in the availability, quality and integrity of Halal Products

Increase in no. of certifiers to ensure quality and integrity of Halal products in the market

Emergence of new categories for Halal certified products and services

Globalization and integration of markets (GCC, AEC, EU, etc.) •Growth in E-commerce – internet platform marketing
Scope of Halal Certification
Food Products / Beverages /




Food Supplements

Food Premises / Hotels /




Establishment

Cosmetics and Personal Health




Care Products

Pharmaceuticals

Farm Systems Includes




Agricultural Inputs and Feeds

Slaughterhouses

Logistics
PROCEDURE FOR HALAL
CERTIFICATION:
DOCUMENTATION REVIEW

AUDIT

CERTIFICATION DECISION BY




PUCOI

MONITORING
PROCEDURE FOR HALAL CERTIFICATION
Submission of the following documents, whichever is applicable:
I. DOCUMENTATION REVIEW
Letter of Intent: the company, manufacturer or producer makes a
letter of intent to PUCOI requesting assistance to certify their products
specifying products to be Halal certified;
List of products applied for Halal Certificate with its corresponding
list of ingredients.
Company Halal Policy (stating that the company wants to be halal
certified, it will emanate from the top management);
License to Operate/Business Permit;
Valid trade License/Other government issued permit/license;
Certificate of export or free sales certificate (if any);
Product composition and ingredients concentration report issued by
the manufacturer;
Document proof using any of the internationally accepted HACCP,
GMP or FSMS;
Test report from the recognized laboratory accredited by ISO 17025 as
per the requirement applicable UAE.S GSO standard for the product
(if any);
Factory lay out (floor plan);
Labeling artworks;
Certificate for organic or Halal Certificates of raw materials and
ingredients;
Brief description of manufacturing process and plan equipment lay-out in the form of Halal Assurance Management system;
Certificate of raw materials and packaging material from supplier ensure their origin.
ii. AUDIT
STAGE ONE AUDIT
Document Verification Submission of Three   3) sets of samples per product
Preparedness for Stage Two Audit
STAGE TWO AUDIT
Extensive Implementation of Audit
III. CERTIFICATE DECISION BY PUCOI
After the audit evaluation, PUCOI will inform the applicant on the status of its application for Halal certification.
Affiliations and Recognitions